Registration Information
Race Day is Sunday July 9, 2017




Start Time: 7:00AM
Entry Fees and Deadlines:
► Mad Marathon entry fee:        $95.00 until May 1st, 2017, $110 until July 6th, and $120.00 Race Weekend.
► Mad Half entry fee:                $80.00 until May 1st, $95 until July 6, 2017, $110 Race Weekend 
► Mad Half Walkers entry fee:  $80.00 until May 1st, $95 until July 6, 2017, $110 Race Weekend 
► Mad Half Two person Relay entry fee:  $160.00
► Mad Marathon Three Person Relay Team entry fee:   $210.00
► Mad Marathon Five Person Relay Team entry fee:     $230.00
RUNNERS MUST BE 16 YEARS OLD ON RACE DAY.
How to Register:
Please note that on-line registration will close on July 6, 2017 at 11:59PM Eastern Standard Time or when the
race is full. You can register direct with the Mad Marathon or Step After Step by using the links below: Note our marathon, mad half, mad half walk and relays are now through ACTIVE.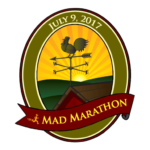 Register with Our System (No fees) CLICK HERE
Register with Active.com … CLICK HERE
Registration will be open at Registration if spots available.
Packet Pick Up:
Race packets, chips and race bags must be picked up at the host hotel, the Waitsfield Inn, Friday, July 7, 2017 from 4:00PM until 7:00PM or Saturday July 8, 2017 between the hours of 9AM and 6PM. Late pickup Sunday morning
July 9, 2017 between 5:30AM and 6:30AM.
Awards:
Awards will be given for the Top 3 men and women in age categories: 16–24, 25–29, 30–34, 35–39, 40–44, 45–49, 50–54, 55–59, 60–64, 65–69, 70-74, 75-79 and 80+. Note if additional older age groups are necessary because of entries
then these will be added.
On the Course
Safety:
Runners are not to push baby carriages/strollers or have dogs along the course. Radios, headphones, earbuds and other electronic devices are discouraged for safety reasons. It is important to the race organizers that you are aware of your surroundings and all possible distractions along the course.
NOTE: NO RUNNER SUPPORT VEHICLES ALLOWED ON THE COURSE – IF THIS HAPPENS THE RUNNER WILL BE DISQUALIFIED.
Typical Race Day Weather:
Summers in the Mad River Valley are cool and breezy with temperatures ranging between the mid seventies to mid-eighties. We say in Vermont, "If you don't like the weather, wait a minute", so be prepared for bright sunshine or rain showers. However, despite the conditions we promise a beautiful run!
Portable Toilets:
A large number of portable toilets will be available a the Mad River Green Start /Finish Area and also along the course
at every aid station .
Aid Stations:
The Mad Marathon Aid Stations will be hosted by non-profit organizations of the Mad River Valley at least every two miles where there is a great location to take care of you. Water and fluid replacement will be available at each station with energy gels at key positions.
Medical Support:
A medical tent will be located a short distance from the Finish Line in the Mad River Green and staffed with volunteer support from within the local medical community. Mobile EMT ambulances will be on the course. Also, there will be a team of bicyclists who will patrol the course to assist and seek assistance as needed.
Timing:
We will be using chip timing with mats and the Start / Finish. Mile markers will line the course.
Time Limits:
The course cut off time is 6 hours and 30 minutes in respect of the hundreds of volunteers that will be helping out with the race. Closer to race day, if any runner anticipates that this cut time to be a problem, you are invited to contact the race director and transfer to the half-marathon.
Certified Course:
The 2017 Mad Marathon is a USATF certified course (VT11012RF). We are a Boston Marathon qualifier.