The World's Most Beautiful Marathon!
Take it easy or take it tough…we have a race for every runner at any level.
The Eighth Annual Mad Marathon, Mad Half and relays are scheduled for July 8, 2018 in the gorgeous Mad River Valley, located in Central Vermont.
You will be running through this extraordinary rural community on back and dirt roads, with breathtaking views of the Green Mountains, challenging rolling
farmlands with tough climbs and descents, quaint villages, historic barns, covered bridges and fields of our famous Vermont cows!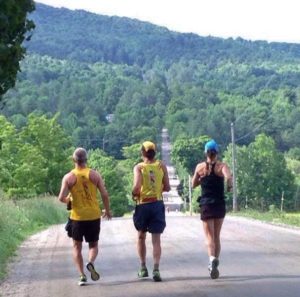 Comments from Mad Runners:
"What a great event. Low key, easy to get to, VERY well organized, plenty of aid stations
and volunteers and the Vermont charm! " CG from Bethlehem, PA
"Beautiful Challenging Race" DG from Cranston, RI
"Amazing Small Town Race" JC from Essex Jct, VT
"Great New England Run" AS from Houston, TX
"A Jewel of a Discovery" MC from Albany, NY
"Amazing Fun" MN from Philadelphia, PA
"Cool Town! Beautiful Mountains!" LS from Fallston, MD
"Good People, Great Scenary, Extremely Challenging" NF from Connecticut
(More Reviews)

The Mad River Valley is the winter home of Sugarbush and Mad River Glenski areas, and the summer offers a host of sport opportunities in golf, biking, kayaking, canoeing, fly fishing and of course, running in a pristine natural setting.
The marathon course is certified and sanctioned by the US Track & Field. Our certification number is VT11012RF and therefore a Boston Marathon qualifier.
Walkers are more than welcome for the Mad Half and there is a category for Mad Half Walkers..
Thank you all for your amazing support of this exciting "World's Most Beautiful Marathon".
Dori Ingalls
Race Director