Mad Marathon
The Eighth Annual Mad Marathon is scheduled for July 8, 2018 in the gorgeous Mad River Valley, located in Central Vermont.
You will be running through this extraordinary rural community on 26.2 miles of back and dirt roads, with breathtaking views of the Green Mountains, tough rolling farm lands, quaint villages, historic barns, covered bridges and fields of our famous Vermont cows! Although you may know Vermont for it's brilliant foliage, the Mad River Valley is equally beautiful during  the cool and breezy summer months.
The race starts at the Mad River Green in central Waitsfield Village, and the course travels north on Route 100 for a short .6 mile before turning onto our first secondary road and through a covered bridge…on yes, Bridge Street. You will face your first climb about one mile into the race running up past an aid station and hitting a second station at the top of your climb on Joslin Hill Road and 2.2 miles into the race. Joslin Hill meets North Road and rolls along gently down hill for about another 2.5 miles, through Pine Brook Covered Bridge to your third aid station at Meadow Road. You are now traveling within Neill Farm on dirt roads and an absolutely fabulous introduction to our farmlands. When you reach Meadow Road you will turn left and run a short out and back section, and the turn left continuing along North Road until you reach the turnaround location at just over 6 miles into the race at Carpenter Farm..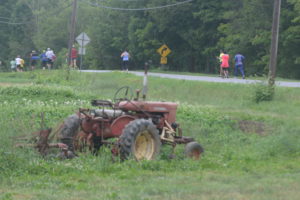 Back along North Road you retrace your path up North Road and hit 9.4 miles at the Common Road intersection. You will run a short out and back section on East Road before hitting Common, a lovely dirt road with more extraordinary views of barns, farms and country homes all in a delightful rural setting. This stretch of the run is just under 3 miles and joins East Warren Road just over 12 miles into the run.
You will then turn left onto East Warren and run along this rolling countryside road for about 3 miles of stunning vistas. When you reach Roxbury Mountain Road you begin a four mile loop along four charming backcountry lanes (Roxbury, Senor, Fuller Hill, Plunkton) with amazing views, farms, barns and exquisite homesteads.
Returning to East Warren Road 19 miles into your marathon, you begin a gentle rolling downhill slope (including one famous "dip") back to Bridge Street and then a short mile sprint to the FINISH LINE!
The Mad Marathon is santioned by USA Track&Field New England (Sanction No 11-206) and the course is USAT&F certified – VT11012RF.