Mad Marathon has recently partnered with RunBetterApp so that you can experience the Mad Marathon course and run part or all of it on a treadmill while training for the event.  We are excited to have this great new program.  
Check out RunBetter…. Click Here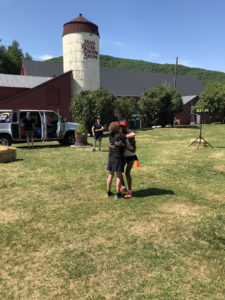 Last Finisher: Our last finisher this year with the traditional hug from Dori.
Check out the short video of the 2018 Mad Marathon produced by MRVTV, our local public access station. Click Here…
MAD MILE
Second annual kids mile run which will start after the last marathon and half marathoners cross the start line. The kids, ages 7 to 13, will run to Bridge Street and turn and return on the side walk to the Mad Marathon finish line. Registration will be on race morning a 6:00 on the Mad River Green near the finish gantry. Registration fee is $5 and each runner will receive a t-shirt specific to the event.
2018 & 2019 RUNNER'S WORLD MARATHON BUCKET LIST
We are honored and very proud to be named in Runner's World:
10 Bucket List Marathons World-wide You Should Run in 2018 and again in 2019!